People who seriously flout new lockdown restrictions in England will face steep fines, Justice Secretary Robert Buckland has warned.
Under the rules, people have been told to stay at home and non-essential shops, pubs and gyms ordered to close.
Households are also banned from mixing indoors or in private gardens, unless in a support bubble.
Currently there is a £200 fine for each breach which doubles on every offence up to a maximum of £6,400.
And organisers of large gatherings face a £10,000 fine.
Meanwhile, Prime Minister Boris Johnson will give a Downing Street press conference at 17:00 GMT, alongside NHS England chief executive Sir Simon Stevens.
It comes as the chancellor extended the furlough scheme across the UK until the end of March – paying up to 80% of an employee's wages up to £2,500 a month.
Speaking on BBC Breakfast, Mr Buckland said law enforcement would continue its approach of "policing by consent" to encourage the public to comply with the four-week lockdown.
But he added that police would respond to "egregious breaches" and then the law would "take its course".
He said: "Where a more intense intervention is needed then the police will be involved and of course the fine structure is still in force."
The National Police Chiefs Council has also warned the most serious offenders will face fines.
Mr Buckland said he supported the police clamping down on the "tiny minority" of people who are not willing to obey the lockdown.
"I think the message has to go out very clearly that this will only work if we all play our part," he told BBC Radio 4's Today programme.
There will also be an expansion of the number of Covid marshals, who help ensure social distancing rules are followed in local communities, according to Mr Buckland.
Chancellor Rishi Sunak told MPs the extension of the furlough scheme, which the government will review in January, would "give people and businesses up and down our country immense comfort over what will be a difficult winter".
Scotland's First Minister Nicola Sturgeon told Holyrood she had not seen the detail of the announcement, but she would "unreservedly welcome" an extension of furlough on 80% terms.
Her Welsh counterpart Mark Drakeford tweeted that the announcement gave businesses and workers "some certainty".
Elsewhere, the governor of the Bank of England has vowed to do "everything we can" to support the economy, announcing a further £150bn of support. It has left interest rates on hold at a record low of 0.1%.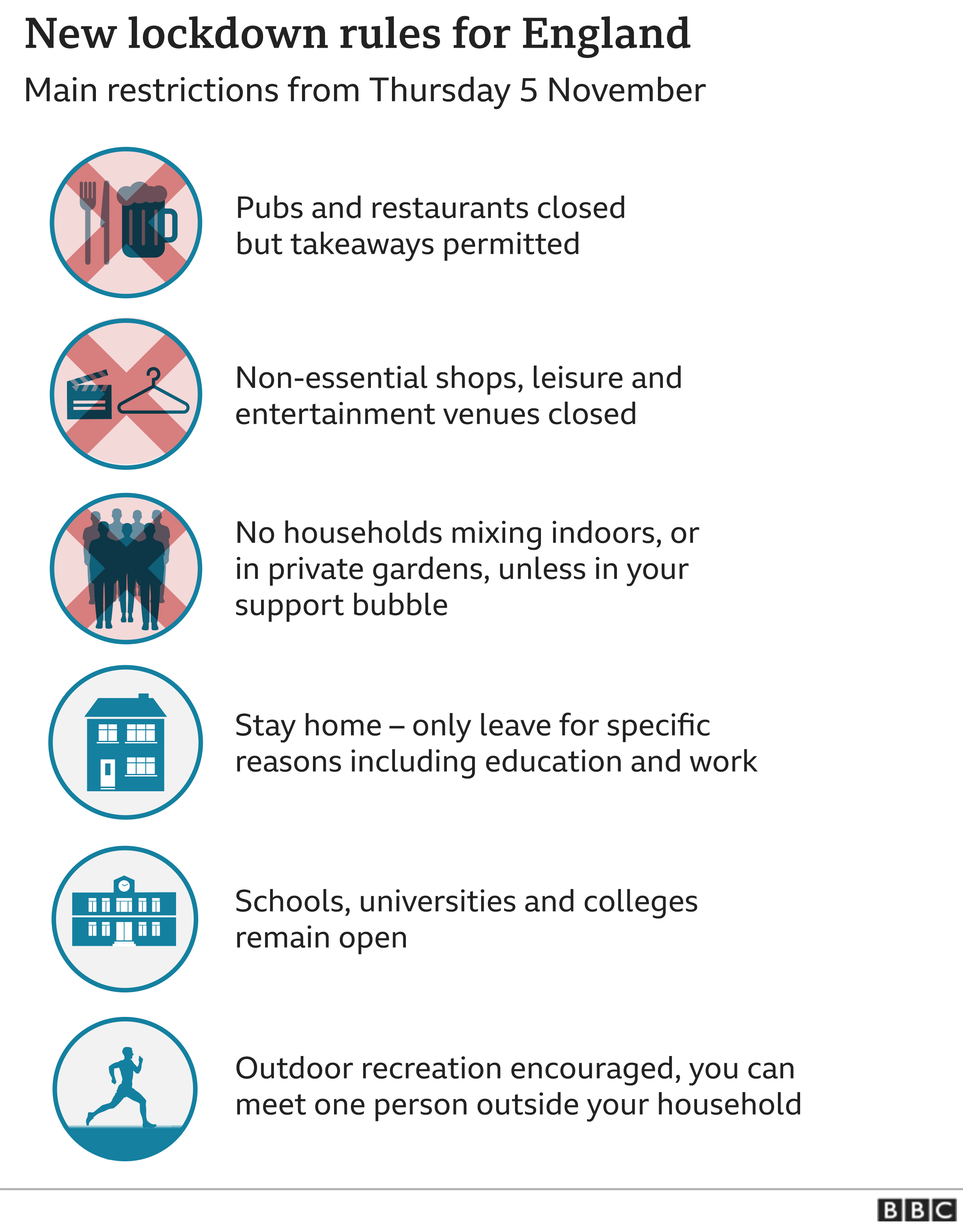 On Wednesday, MPs backed the lockdown, which aims to combat a surge in coronavirus cases and replaces the three tiers of regional restrictions that were previously in place across England.
Mr Johnson has said the lockdown will "expire automatically" on 2 December, and there is expected to be another vote on the next steps needed to tackle the virus before it ends.
It came as the UK recorded a further 492 coronavirus deaths – the highest daily figure since 19 May – and 25,177 confirmed cases.
Under the new restrictions, people should stay at home except for specific reasons including education and work, if it cannot be done from home.
All non-essential retailers, leisure and entertainment venues must shut, with pubs and restaurants told to close except for takeaways.
Downing Street said there was "no change" to a ban on religious services, after Cardinal Vincent Nichols, leader of the Roman Catholic Church in England and Wales, said there was no scientific evidence for the decision.
The prime minister's official spokesperson said the government was continuing to work with faith leaders and added places of worship were open for private prayer.
Unlike the first lockdown in March, schools, universities, and nurseries will remain open, and people will be able to meet another person who they do not live with in an outdoor public place such as a park or beach.
The rules say people cannot mix with anyone they do not live with indoors or in private gardens.
In other developments:
Source: BBC